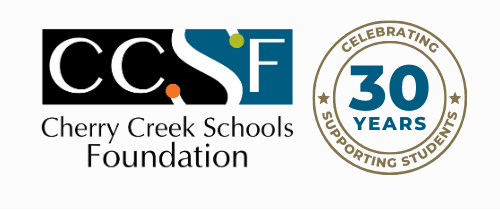 Ensuring Excellence in Education for Generations to Come
The Cherry Creek Schools Foundation is thrilled to announce the launch of a brand-new endowment to support all of Cherry Creek's teachers and students, in coordination with the 30th anniversary of the Cherry Creek Schools Foundation's founding.
Endowments are a powerful tool for creating lasting impact, and this initiative represents a permanent investment in the future of our students and schools. By establishing the Cherry Creek Schools Foundation Endowment, we can ensure that every teacher and student in our community has access to the resources they need to succeed, both now and for generations to come.
You can contribute to this important cause in many ways, including by making a legacy gift. When you make a legacy gift to the Cherry Creek Schools Foundation's endowment fund, you are making a long-term investment in the future of our schools. The endowment fund is a permanent source of funding that provides ongoing support for teachers and students throughout the district.
Through strategic investment and management, the endowment fund generates a steady stream of income that is used to fund critical programs and initiatives, such as classroom grants, professional development opportunities for teachers, and scholarships for students.
Legacy Giving
By leaving a legacy gift, you are helping to ensure that the Foundation can continue to support generations of students and educators to come. Your gift will have a lasting impact on the lives of countless students, providing them with the resources and opportunities they need to achieve their full potential. There are many types of legacy gifts you can make, such as:
• Bequest in your will or living trust - a gift of cash, property, or other assets made through your will or trust that takes effect after your passing.
• Gift of life insurance - naming the Cherry Creek Schools Foundation as a beneficiary or owner of a life insurance policy.
• Charitable gift annuity - a way to make a gift to the Foundation while receiving immediate tax benefits and fixed payments for life.
• Donation of appreciated securities or real estate - donating assets like stocks, mutual funds, or real estate that have appreciated in value, which may provide tax benefits.
• Gift of retirement plan assets - a gift made by naming Cherry Creek Schools Foundation as a beneficiary of a retirement plan, such as an IRA or 401(k).
Each type of gift has its unique benefits and can be tailored to meet your financial and philanthropic goals. A legacy gift is a meaningful way to give back to the community and help shape the future of education in Cherry Creek Schools.
Whether you're a parent, teacher, business leader or other member of our supportive community, we invite you to consider making a legacy gift to support our endowment fund. Together, we can create a lasting legacy of excellence in education and make a difference in the lives of countless students and teachers in Cherry Creek Schools. To learn more about how you can make a legacy gift and support this important cause, please contact us today. Let's celebrate 30 years of success and pave the way for an even brighter future.
To Learn More: email jhenden@cherrycreekschools.org
or call 720.554.4409