$73,482 given in scholarships during 2019-20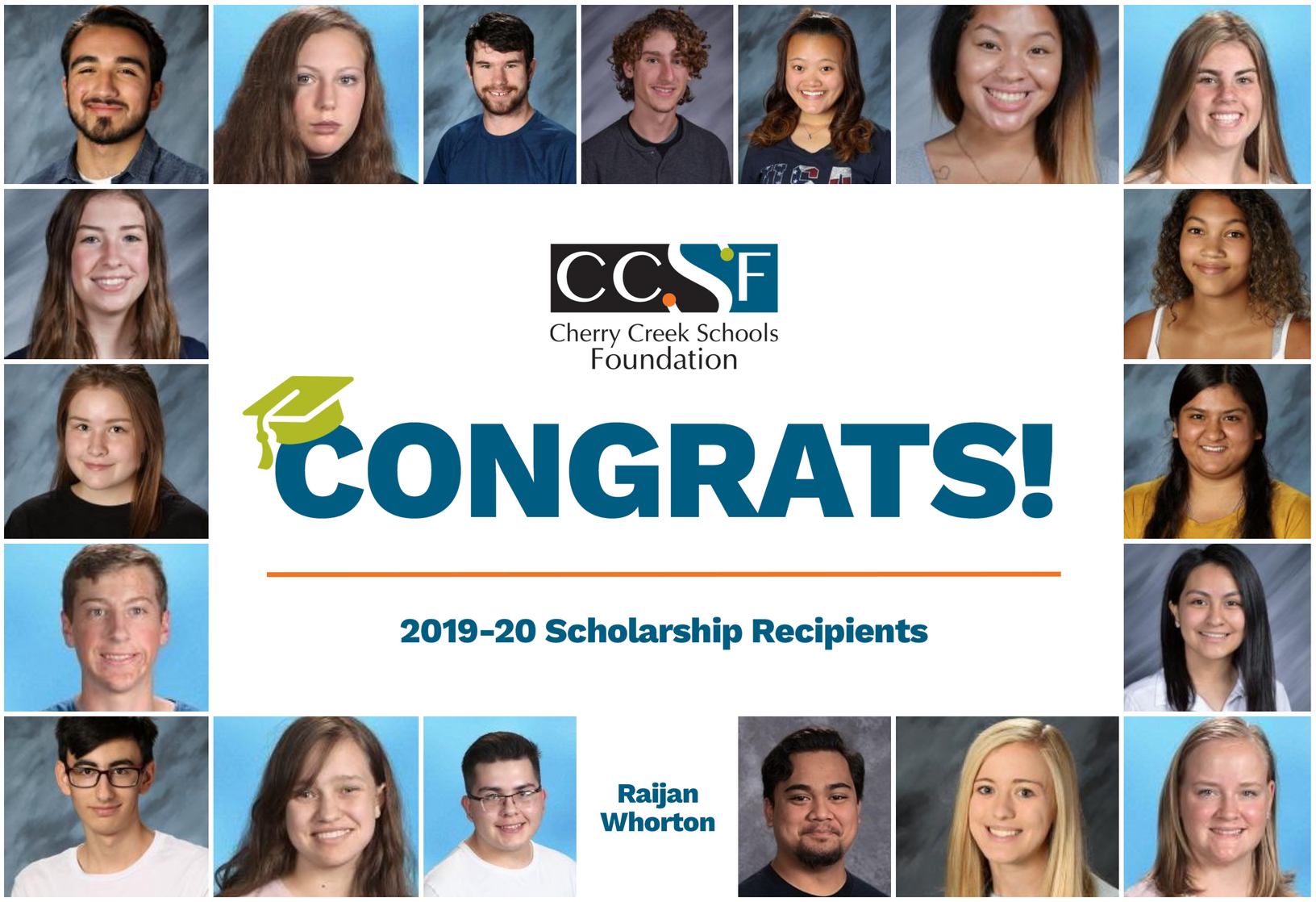 Scholarships
The Mitch Hanson Scholarship:

The Mitch Hanson Scholarship is committed to providing college financial assistance to Smoky Hill High School seniors who have demonstrated an excellent work ethic, a desire to pursue post graduate education and a generous spirit. Mr. Hanson considered himself fortunate to be a part of the Smoky Hill Community as a Social Studies and AVID teacher. His spirit of compassion, caring and generosity greatly impacted Smoky Hill students and families. Mitch was committed to helping students prepare for college and his family would like to honor his dedication by providing this scholarship to one or more students each year in his memory.

2019-20 Recipients:

Maygen Daugherty
Simeon Petrov
Rita Hellmann AVID Scholarship (Advancement Via Individual Determination):

Eligibility:
The applicant must:
• be a graduating senior from the Cherry Creek School District
• have 3.0 GPA (Unweighted)
• have participated in the AVID program for at least 2 years

Selection:
• Financial Need--Applicants will be asked to submit parent's/guardians' IRS Form 1040 (pag. 1&2 only) and W-2 form as well as their SAR report from FAFSA
• Scholastic Record: An Official Transcript from their school
• College Essay: Applicants will be asked to submit their best college essay
• High School Resume: Include community service, jobs, involvement in AVID and school
• Recommendation: One letter of recommendation from a teacher or counselor

Timeline:
January 17th Application will be made available
February 2nd Application is due (submitted online)
February 12th Interviews for Finalists
February 14th Winners will be announced

2019-20 Recipients:

Victoria Brown - Eaglecrest - Senior (LEFT)
Victoria Marshall - Overland - Senior (RIGHT)
Nicolas LeClaire Scholarhsip

2019-20 Recipients:

Joshua Cervantes
Katya Ostapowicz
Dr. Monte C. Moses Scholarship – Inspiring Future Educators:

The Dr. Monte C. Moses Scholarship is awarded annually to students who need financial assistance to complete a professional teacher licensure program at a Colorado college or university. The $5,000 scholarship was founded in honor of past CCSD Superintendent Dr. Monte Moses, was first given in 2006 and has provided educational opportunities for students. The first recipient is now a teacher in the Cherry Creek School District.

2019-20 Recipients:

Primary Recipient:
Spencer McPhillips (LEFT)
Runners-up:
Lindsey Johnson (MIDDLE)
Justin Cieslewicz (RIGHT)
Sherry Shepherd Sargent Scholarship:

The Sherry Shepherd Sargent (SSS) Scholarship provides a $2,000 academic scholarship to a deserving high school senior in Cherry Creek Schools to further their academic aspirations. In an effort to make higher education opportunities available to as many students as possible, this scholarship will not be awarded to a student who has been offered or accepted a full ride scholarship to attend a public, private, or service institution.

Visit the application link below to download the 2021 scholarship application. Deadline to apply is March 1, 2021. Finalists will be notified on March 12, and scholarships will be awarded on April 9.
Molly Stevenson Kindness Scholarship:

The Kindness Scholarship Program founded in 1997, has served to promote character qualities in Campus Middle School students. Middle School can be a turbulent time for children. In transition they are working to learn who they are and seeking to validate themselves. Unfortunately as life has it, validation and acceptance are often measured by peer pressure. During Middle School Years, emotional immaturity can produce volatility that leads to precarious and sometimes hurtful behavior.

Rewarding random acts of kindness at this time in the emotional development of our students encourages the discipline and character building so needed to survive the tumultuous period. The practices of Kindness tills fertile soil for social justice each day. Honoring students who practice kindness in school activities or within their peer communities paves the way for them putting these skills into practice, emotional maturity and discipline are developmental during this period.
Ginny Berry Merit Award:

The Ginny Berry Merit Award is a scholarship up to $500 that goes to a senior student at Cherry Creek Alternative High School (PREP) who demonstrates significant growth and improvement of attitude towards themselves and others, academic acheivement, behavior and citizenship, service to others, school or community.

2019-20 Recipients:

Raijan Whorton
Blaise Flores-Molnar
2019-20 Recipient:

Keidyfer Leon
Ezekial Kinnison