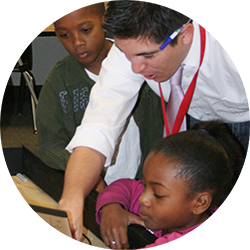 SCHOLARSHIPS
The Dr. Monte C. Moses Scholarship is awarded annually to students who need financial assistance to complete a professional teacher licensure program at a Colorado college or university. The $5,000 scholarship was founded in honor of past CCSD Superintendent Dr. Monte Moses, was first given in 2006 and has provided educational opportunities for students. The first recipient is now a teacher in the Cherry Creek School District.
2016-17 Recipients:

Lauren Noble

Lindsey Watson
The Sherry Shepherd Sargent (SSS) Scholarship provides an academic scholarship to a deserving Cherry Creek School District High School Senior student to further his/her academic aspirations.

2016-17 Recipient:

Tesakiree Garber

Lara Doyne

Chelsie Fincher
The Mitch Hanson Scholarship:

The Mitch Hanson Scholarship is committed to providing college financial assistance to Smoky Hill High School seniors who have demonstrated an excellent work ethic, a desire to pursue post graduate education and a generous spirit. Mr. Hanson considered himself fortunate to be a part of the Smoky Hill Community as a Social Studies and AVID teacher. His spirit of compassion, caring and generosity greatly impacted Smoky Hill students and families. Mitch was committed to helping students prepare for college and his family would like to honor his dedication by providing this scholarship to one or more students each year in his memory.
AVID- Advancement Via Individual Determination:

AVID is a sixth grade through high school program to prepare students in the academic middle with potential for success in rigorous secondary curriculum for four-year college eligibility. AVID is designed to increase school wide learning and performance. The focus of AVID is to ensure that all students and most especially the least served students in the middle, capable of completing a college preparatory path, will succeed in rigorous curriculum, will enter mainstream activities of the school, will increase their enrollment in four-year universities and colleges, and will become educated and responsible participants in a democratic society.

AVID is an academic, regularly scheduled elective program based on writing as a tool of learning, inquiry method, and collaborative grouping. The three main components of the program are academic instruction, tutorial support, and motivational activities. The goal of AVID is to educate the "whole student." This is achieved by unifying six important elements of education: students, curriculum, faculty, tutors, parents and community.

2016-17 Recipients:

Emilee Habernal

Elijah (Eva) Anderson

Devin Hirschfeld
Kindness Scholarship:

The Kindness Scholarship Program founded in 1997, has served to promote character qualities in Middle School students. Middle School can be a turbulent time for children. In transition they are working to learn who they are and seeking to validate themselves. Unfortunately as life has it, validation and acceptance are often measured by peer pressure. During Middle School Years, emotional immaturity can produce volatility that leads to precarious and sometimes hurtful behavior.

Rewarding random acts of kindness at this time in the emotional development of our students encourages the discipline and character building so needed to survive the tumultuous period. The practices of Kindness tills fertile soil for social justice each day. Honoring students who practice kindness in school activities or within their peer communities paves the way for them putting these skills into practice, emotional maturity and discipline are developmental during this period.
Ginny Berry Merit Award:

The Ginny Berry Merit Award is a scholarship up to $500 that goes to a senior student at Cherry Creek Alternative High School (PREP) who demonstrates significant growth and improvement of attitude towards themselves and others, academic acheivement, behavior and citizenship, service to others, school or community.

2016-17 Recipients:

Joshua Jaramillo

Claudia Vargas Rubi