ELEVATE Gala & Educator of the Year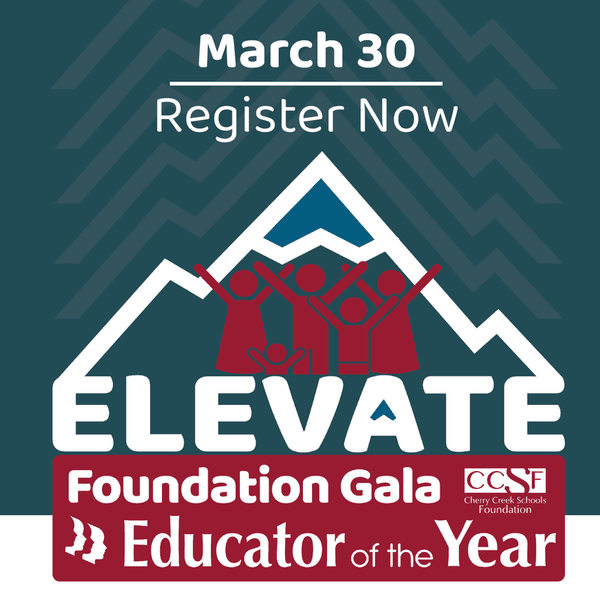 Celebrate Our Educators at Elevate 2023!
Join us for another fun-filled evening to celebrate our community's extraordinary educators and support the work of the Cherry Creek Schools Foundation. Cherry Creek Schools teachers spark innovation and excitement in learners of all ages. Help us honor them and rally support to help our students and teachers thrive. 
The 2023 Elevate Gala & Educator of the Year Celebration
Thursday, March 30, 2023 
Broncos Training Complex / UC Health Training Center
5:00p – 6:30p: Cocktails, Silent Auction, Networking
6:30p: Sit-down dinner, student performances, program & award

For tickets, donations, sponsorships, silent auction and more, visit:
bit.ly/elevate23
Proceeds from this event will support the work of the Cherry Creek Schools Foundation and help fund programs that give back to Cherry Creek's educators and students, like CCSF's Educator Initiative Grants program which gave  $193,000 to CCSD educators this school year.
----
Corporate Champions: A New Way to Partner
We want to partner with you to help create the next generation of learners and leaders! By becoming a Community Champion, you not only help students, but join a thriving a community of those invested success. Learn more.
 
Questions?
Email amacdonald3@cherrycreekschools.org
or call 720.554.4429
Congratulations to the Educators of the Year and thank you to our generous sponsors for all your support of Cherry Creek Schools' educators, students, schools and community!
Elevate Gala & Educator of the Year Event