Aurora Poet Laureate Ahja Fox visits Prairie Middle School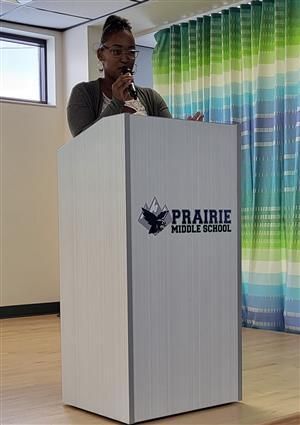 Entering through the front doors of Prairie Middle School, Ahja Fox was excited to share her love of poetry in the same halls that she once walked as a student.
"I met my lifelong friend at Prairie," Fox said. "I was in choir and track and Leadership. That was the beginning of realizing that I could be strong, innovative, and effective in my ideas. I look back and see that Prairie gave me a solid taste of what was to come, giving me the basics of good communication and interpersonal skills."
Fox's visit was funded by an Educator Initiative Grant made possible by generous donors to the Cherry Creek Schools Foundation. A graduate of University of Colorado (Denver), Fox became Aurora's Poet Laureate earlier this year and has had the honor to perform at multiple events, including a naturalization ceremony celebrating the diversity of Aurora residents who choose to become American citizens. She also spoke to about 500 eighth-graders about her journey and what inspired her before sharing several poems she had written, including one about Prairie, written in the form of a bell schedule.
Students asked Fox questions about being a poet and a woman of color and how those identities have impacted her.
"Being a poet has made me more passionate and sparked a new interest in learning about humans," Fox said to a student who asked how being a poet changed her. "One thing that is free to everyone on the planet is language. Writing helps you sharpen who you are."
Born and raised in Aurora, Fox shared that she is both a Black and Native woman (Blackfoot Tribe) and that she likes to incorporate history, cultural traditions, and her love of Young Adult novels into her work. Incorporating her identity into her work is new, Fox said. She purposely avoided these topics and felt insecure about being the "right" person to talk about it, but came to accept that she had every right to talk about identity and her lived experience.
Fox shared that her interest in writing started young with poetry and short stories. She began dabbling in poetry as a hobby, and became more interested in it in high school, but still had no real goal of pursuing it as a career.
"It was in college that I realized I wanted to pursue it as more than just a hobby," Fox shared. "It hit me that I had a lot to say and a brilliant way to say it. You should never think of 'passion' as synonymous with 'pipe dream.'"
Fox encouraged students to pursue their passions and to always be willing to learn, no matter where they are in their journey. 
"As a poet laureate, I am seen as the "top exemplar" of my craft, but sometimes I still see myself as a student even though I have now been doing this work for several years," Fox said. "I don't think of anything I do in terms of 'best' or 'most.' I only weigh personal quality and satisfaction. As a forever learner, I am always looking for more, but sometimes what I already have is enough and that's the beauty of being flexible and willing to adapt."