Educator Initiative Grants spark innovation in the classroom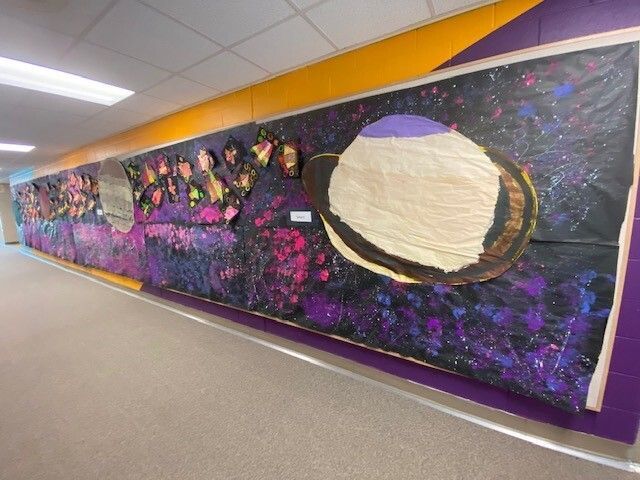 In Amanda Arlington's art class at Canyon Creek Elementary, students not only got to create a rainforest and solar system – they also learned how to work collaborative with each other. 
Educator Initiative Grants are one of the ways the Cherry Creek Schools Foundation (CCSF) supports innovation and engagement in schools. These grants are possible because of donations from community members, which go to help educators purchase curriculum, technology, materials, or other resources to support student learning. This year, 327 educators applied for an EIG, a significant increase compared to previous years. 
"It's been absolutely incredible to see how many educators have learned about this grant and how passionate their ideas can be," CCSF Executive Director Jill Henden said. "We get to see so many great ideas being brought to life and truly capture students' imagination and attention."
Arlington wanted to find a way to bring a museum experience to her kindergarten, first, and second grade students to create an art installation with "real" rockets and pollinators. Arlington was amazed at how her students were able to work collaboratively and find opportunities to shine. She talked to her students about expectations – such as what to do if someone is painting or creating art differently than you might – and found her students responded positively to the project. One student, for example, found he enjoyed making the rainforest vines and even worked with other students to show them how.
Lisa Allen of Greenwood Elementary wanted to teach her students about the power of growing plants. For her EIG, Allen created a tower garden that became a highlight for the school. Giving students the responsibility to care for a living organism helped them find the inspiration to learn and to stay dedicated to a project. Allen also launched a project-based learning lesson where students could make soaps and dyes out of plants they had cultivated.
In Brian Hostetler's STEM class at Canyon Creek Elementary, first- and second-graders designed and created a LEGO amusement park, complete with rides, ticket booths, and concession stands. The students used design thinking and collaborative teamwork to figure out the best ride speed and physical specifications for the park. Students learned not only how to succeed, but how to go back to the drawing board if their original ideas didn't work.
At Horizon Community Middle School, Baochau Thomas led a project where students build community and conflict resolution skills by designing board games in their seventh-grade advisory periods. Thomas found that students were still recovering from the isolation and remote learning in the initial days of the pandemic. The students used a design thinking process to create the games, but also restorative practices to handle any conflicts that arose during the process. 
EIGs are one of several ways that the CCSF helps support student achievement and growth. The CCSF recently launched the Mental Health Relief Fund in partnership with the district, providing emergency counseling, referral services, and launching a pilot program to support students dealing with grief and loss.
To learn more about the Foundation or make a donation to support these and other programs, visit www.ccsdfoundation.org.