CCSD schools receive donated school supplies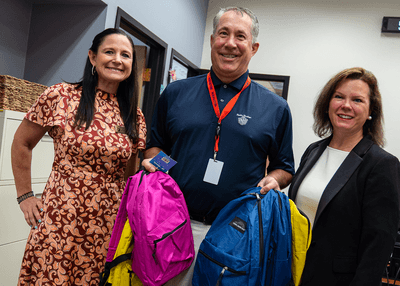 As the cost of school supplies continues to rise, students and families in the Cherry Creek Schools found relief through a generous donation of more than $9,000 worth of school supplies distributed to eleven schools by the Cherry Creek Schools Foundation (CCSF).
The Foundation partnered with Jewish Family Services, Eastern Hills Church, the Aurora Police Department, Pax8, Costco, and Fairfield Inn and Suites to ensure families had what they needed to start the school year. This is one example of the school district living its core value of Equity. By removing barriers to education, students will have the support and opportunity they need to forge their pathway of purpose.
Multiple CCSD departments worked together to facilitate and distribute the donations. Staff members from the school district as well as the CCSF visited schools this week to drop off supplies and backpacks. Staff members were also joined by Board of Education members Kelly Bates, Anne Egan and Kristin Allan  as well as Superintendent Christopher Smith.
"Our job is to make sure every kid has the tools they need to succeed in school," Superintendent Smith said. "This is a way to show our students that they matter and that their education matters. When that happens, they know they can achieve anything."
"I am so grateful to our community partners and the investment they've made in our future," CCSF Executive Director Jill Henden said. "Because of their commitment to education, we can help thousands of students learn and thrive this year."