CCSD student donates proceeds from art sales in local café
Think, learn, achieve and care - those are the things Cherry Creek Schools look to instill in all of our students. In the wake of the pandemic, our students have faced truly unprecedented challenges, but the care for their community and fellow students has shined through more than ever.
Cherry Creek High School freshman, Torsten Hornemann, is one of those students. Starting high school can be hard enough, but doing it during a world-wide pandemic makes it that much more of a challenge.
"It doesn't really feel like being a freshman at this point, just 40% of it", said Torsten when discussing the school year so far. With limited in-person class this year, Torsten has had to navigate and adjust to a new normal. One thing that's helped him was art.
 "There were days at the beginning of this where I would feel horrible if I didn't do anything. Painting was something to do and that's what I loved about it. And the more I painted the better I got, and the more I enjoyed it. It became something where I felt like I accomplished something and that helped me get through a lot of this".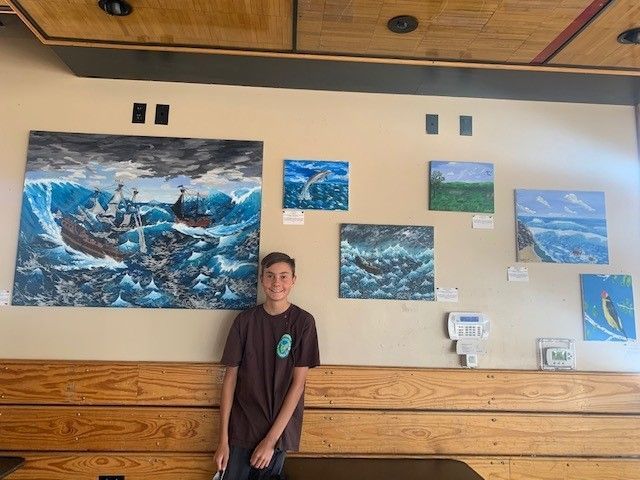 Torsten and his family are long-time patrons of the French Press Café, across from Cherry Creek High School. The café regularly features different artists' work. As he started painting, Torsten wanted to see if he could display his artwork. He had to wait a year, but this January he got his chance and his work is up on the café walls now.
But Torsten wanted to do more than just display and try to sell his work, he wanted help give back. He decided to donate a portion of any proceeds he received from selling his artwork to the Cherry Creek Schools Foundation.
"I realized I've been very fortunate in my upbringing, so if I can help people who maybe aren't in as good of a situation as I am, that was better than a little money in my pocket."
When thinking about giving back, contributing to the community he's a part of was important to him.
"The Foundation supports the district I go to. I wanted to help all of my peers, and that means so much more to me because of how I relate to it…I am able to attend such a great school and reap all the benefits of that. It's one thing to be grateful for it though, but another to really feel like I can give back and help other people have the same thing -  because at the end of the day the best way to be grateful in my mind is to give others opportunities so they can have the same benefits that I have."
Our sincere thanks go out to Torsten for all of his efforts to help support the Foundation's work and help his fellow students. His work is on display through the end of January, so stop by and have a look at the Greenwood Village French Press Café.