CCSF Gala Celebrates Impact, Innovation and Opportunity for All Students
Lauren Noble can't remember a time when she didn't want to be a teacher.
Though she's yet to graduate from Eaglecrest High School, Noble has a definite and distinct career path in mind, one that's drawn from the example of countless family members.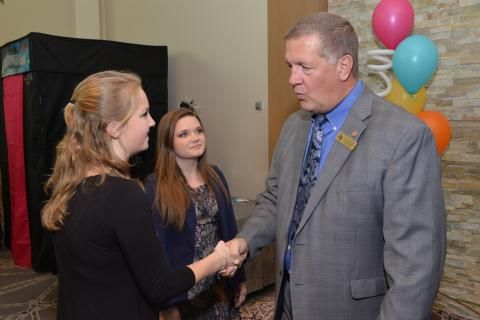 "I've always wanted to be a teacher. My mom's a teacher. My family is full of teachers," Noble said, adding that she's settled on a specialty. "I want to pursue secondary education and focus on mathematics and Spanish."
Noble will have more resources to pursue her professional dreams when she heads to the University of Northern Colorado next year, thanks to a grant from the Cherry Creek Schools Foundation. Noble officially received the 2017 Dr. Monte C. Moses Future Educator Scholarship during the Cherry Creek Schools Foundation's Invest In Success Gala held March 9 at the Hyatt Regency Denver Tech Center. She addressed a crowd of hundreds of Cherry Creek School District community members that included business leaders, elected representatives and dignitaries, as well as CCSD teachers, staff, administrators and Superintendent Dr. Harry Bull.
"I'm so excited to start my future and be an educator," Noble told the crowd.
She wasn't the only student honored with the gift of a scholarship during the foundation's annual event. As runner-up, Cherry Creek High School senior Lindsey Watson also received funds through the 2017 Dr. Monte C. Moses Future Educator scholarship. During the presentation, three high school seniors also received $5,000 each through the 2017 Advancement Via Individual Determination (AVID) Scholarship. Smoky Hill's Emilee Habernal, Cherry Creek's Elijah (Eva) Anderson and Smoky Hill's Devin Hirschfeld all received AVID scholarships.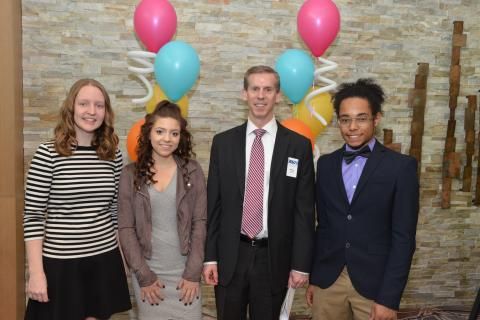 What's more, MDC/Richmond American Homes Foundation received the CCSF Champion of Education Award for its consummate support of the district and the entire Cherry Creek Schools community.
Supporting those dedicated students and organizations was the underlying mission of an event that included plenty of glitz, glamour and ceremony. Even as attendees bid on impressive auction items and gathered to take in student performances and jokes from emcee, broadcaster, motivational speaker and former Denver Bronco Reggie Rivers, the heart of the event was about supporting students. It's no wonder – impact, innovation and opportunity for every student are at the heart of the Cherry Creek Schools Foundation's mission.
The organizations works to ensure the continued growth of the quality of teaching by providing the resources necessary to enhance classroom experiences. It stresses 21st-century skills, technological passion and workforce options, so that every student can achieve to the best of his or her ability.
All of these goals are supported directly by the community, and the gala was a firsthand illustration of that support. Live auctions and other fundraising efforts drew generous donations from community members. Such largesse is what allowed the Foundation to make such a difference in the district during the 2016-17 school year, as they awarded more than $82,000 in grants that directly impacted the classroom.
Superintendent Bull cited those important contributions as he spoke to the crowd, addressing the ever-shifting needs in a district that stretches across 108 square miles and encompasses more than 54,000 students. As kids face a rapidly changing world and experience unique sets of challenges, the support of the entire CCSD community is critical.
"Children today are growing up in a vastly different world than what we experienced," Bull said. "Now more than ever, we need your support. You can make a difference in the lives of children."
Bull spoke about the foundation's direct support for teachers in the form of Educator Initiative Grants, money that funds classroom projects and initiatives that have an immediate and lasting impact for students of all ages and backgrounds.
"The grants offer 'a-ha' moments, sparks and hooks that inspire our students," Bull said. "Remember that behind every one of these moments, there's a teacher; think about a teacher who inspired you. That's what we want to give our kids."
Lauren Noble and Lindsey Watson have felt that brand of inspiration firsthand. Both of the recipients of the 2017 Dr. Monte C. Moses Future Educator scholarship want to offer a spark to future generations, and they want to do it in the same classrooms and the same district where they found their own sense of purpose.
"My plan is to come teach in the Cherry Creek School District, the best district in Colorado," Noble said. "This scholarship from the foundation will help me to achieve that dream."