CCSF Gala unites community for a "Night to Ignite Education"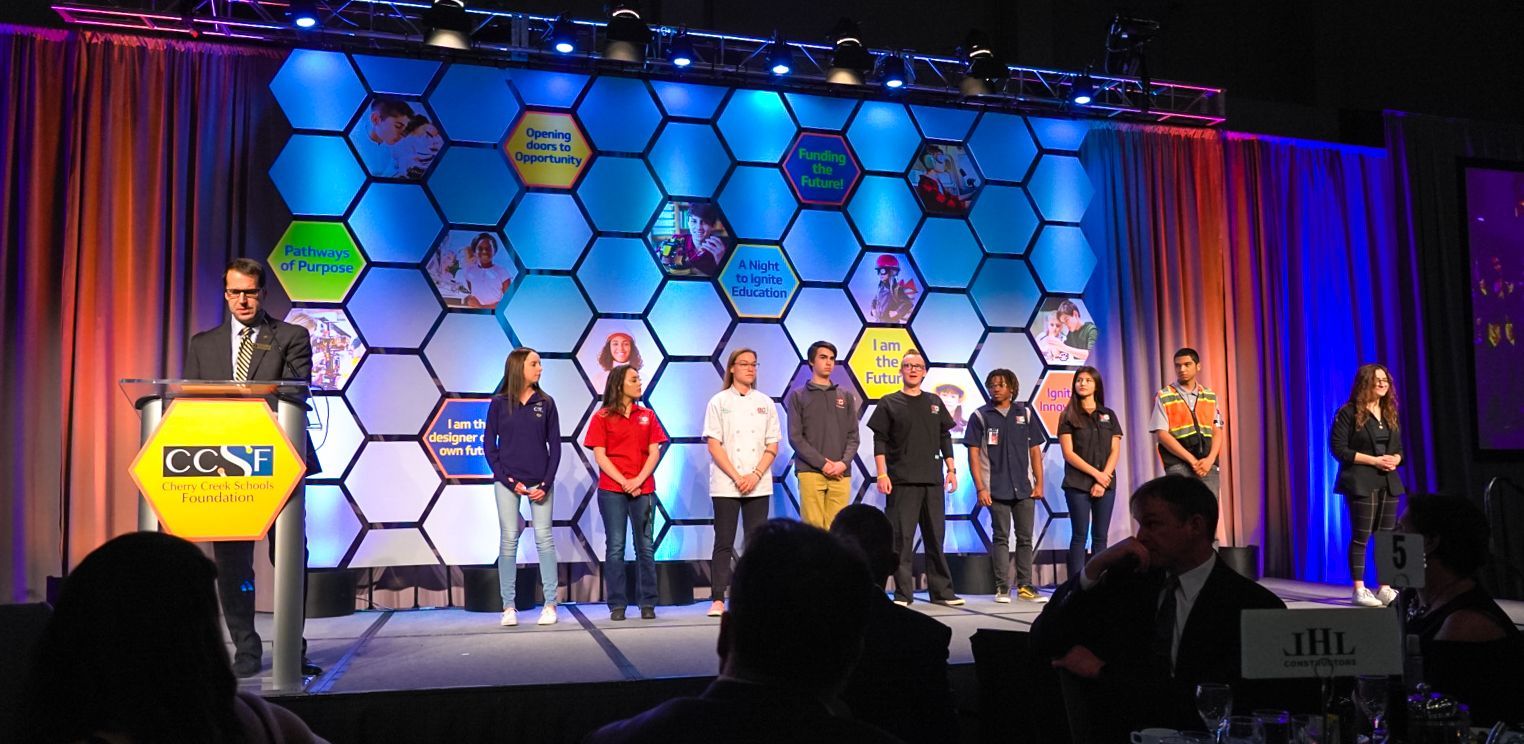 Grandview High School's Project Unify program offered inspiration and a broader life plan to Justin Cieslewicz.
Cieslewicz got involved with the school's Unified athletic program as a junior, and he immediately fell in love with its collaborative and constructive elements. As with other Unify programs at schools across the district, Grandview's initiative pairs students with special needs with their typically developing peers. For Cieselewicz, watching students work together on the basketball court and beyond provided a roadmap for the future.
"I fell in love with being a mentor and inspiring others," said Cieselewicz, now a senior at Grandview. "I want to teach, and I would like to teach ILC programs," he added, referring to education that stresses self-reliance, motivation and inspiration for students with unique needs. "My dream scenario is going back to Grandview High School."
Thanks to the Cherry Creek Schools Foundation, Cieslewicz has found important resources he needs to make those dreams a reality. Cieslewicz was one of three recipients of the Foundation's 2020 Dr. Monte C. Moses Future Educator Scholarship Winners celebrated at its annual Gala held on March 5 at the Denver Marriott Tech Center. The Foundation also awarded Helen Lustig Avid Scholarships to two Cherry Creek School District students during the event, which was themed "A Night to Ignite Education."
As in past years, the Gala served as an occasion to celebrate the mission of the Foundation, as students, teachers and staff from across the district joined community members of all backgrounds. Attendance topped 600, and the evening brought in more than $350,000 in donations to directly impact education in classrooms across the district's 108 square miles. Sponsors included MDC Richmond American Foundation, JHL Constructors, Enterprise Rent-A-Car, Rocky Mountain Hospital for Children, Kroenke Sports and Entertainment and dozens of other local partners.
The Cherry Creek Schools Foundation is dedicated to funding opportunities for all students in the district in innovative ways and helping build partnerships within the community, and the Gala was a perfect spotlight for that mission.
Indeed, firsthand examples of the district's commitment to excellence were on hand at the Marriot to drive home the importance of the Foundation's mission. Students from different pathways at the Cherry Creek Innovation Campus, the district's state-of-the-art career and tech ed facility dedicated to professional learning, helped the event run smoothly. Students from the school's culinary program helped prepare appetizers, while those from the automotive and manufacturing pathways showed off handmade furniture and a sleek Nascar that's a centerpiece of the CCIC's garage.
Students from Meadow Point and Altitude joined teachers from the STEM Blazers districtwide program on Innovation Avenue, a section of the reception area dedicated to showcasing projects funded by the Foundation.
These displays showed off the district's commitment to equipping every student with real-world, practical skills that align with individual interests and passions. This approach is a key component of Future Forward, the district's blueprint for maintaining excellence well into the future. The critical connection between inspiration, education and purpose was also at the heart of comments from CCSD Superintendent Dr. Scott Siegfried.
"From the spark inspired in an elementary student, to the passion of a middle schooler, to the development of purpose in a high schooler, our job is to align every single student with the pathway that's perfect for them," Siegfried said. "Teachers are the heroes of our district, and the Cherry Creek Schools Foundation is all about supporting their work. All of the support you offer tonight will have a direct impact in their classrooms. Thanks to the Foundation's Educator Initiative Grants, teachers have the additional resources they need to organize that special project, and to add that extra depth to a lesson that will ignite a spark in their students."
As Siegfried spoke, students from a diverse set of pathways stood behind him to illustrate the importance of the Foundation's support. Students like Milana Yushkevich, a senior from Cherokee Trail enrolled in the CCIC's Hospitality and Business Services pathways; Tory B. Richardson Jr., an Endeavor senior in the Infrastructure Engineering pathway; and Ryan Stohl, a senior from Eaglecrest enrolled in the Certified Nursing Assistant program.
"The students sharing the stage with me are future engineers, medical professionals, chefs, entrepreneurs, mechanics, construction professionals, artists and educators," Siegfried said. "Thanks to your support, they're well on their way to pursuing what makes them happy, where they find meaning."