District and Foundation invest in future educators
Teachers are the backbone of education.

Day in and day out teachers are finding new and creative ways to meet their students' educational needs to prepare them for their futures. However, Colorado and our nation as a whole are seeing a shortage of educators, especially in subjects like math, science, special education and more.

Cue the Future Educator Pathway program. 
Investing in education, while also investing in its students, Cherry Creek School District has partnered with CareerWise Colorado, a non-profit organization that supports modern youth apprenticeships in Colorado and other states, as well as the Cherry Creek Schools Foundation to address the teacher shortage while also training students to become future educators.

The program provides students with an opportunity to earn money, fill paraprofessional roles and also earn college credit through the University of Colorado Denver. 
"By supporting this program, Cherry Creek looks to a strong future of being Dedicated to Excellence for future generations of students with the best trained educators to meet this goal," said Sarah Grobbel Cherry Creek Schools Assistant Superintendent, Career & Innovation. "We also help current students get the experience and training they need to successfully find their Pathway of Purpose."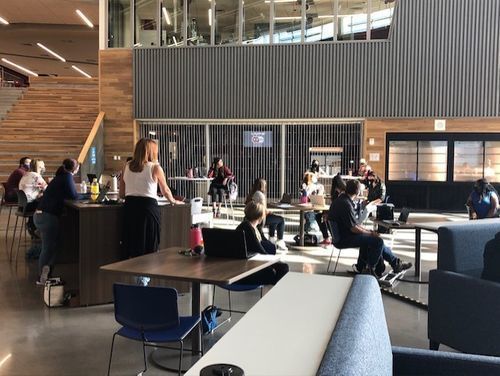 Students participating are learning valuable, hands-on skills in the field, and it's sparking passion and goals for their futures. 
"When I go into that classroom my whole mindset changes and I'm focused on being there with the students," said Sara Lanham, a junior at Eaglecrest High School and participant in the pathway. "Being able to do this just reinforces and encourages me to pursue my dream of helping children as a career."

Future Educator Pathway Instructor/Coach Kara Billings works directly with the students in the program each day. 
"As I have sat in on a few of the Future Educators as they work with elementary students, I see the excitement – not just in the elementary kids, but also in the high schoolers!" said Billings. "They make connections and find a real purpose in what they are doing." 

While the partnership between the district and CareerWise Colorado is what brought the program to our high school students, the Foundation plays a crucial role in making sure all students have the option to participate in the program. 

"The Cherry Creek Schools Foundation has been instrumental in this work, supporting free and reduced lunch program students with tuition," said Grobbel.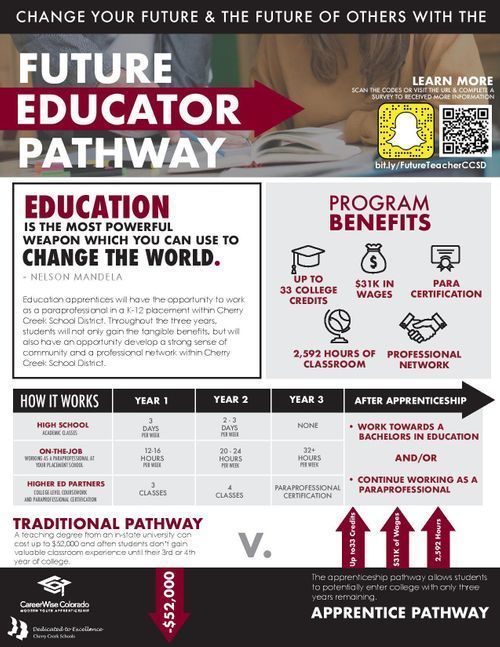 Since its inception, CCSF has strived to provide equitable resources to students; the Future Educator Pathway program is one more way it's working to achieve this goal. 
"The Foundation helps to eliminate barriers for students who may struggle to afford the work-based experience and postsecondary training they need to meet their goal," said Grobbel.  "They also have a strong focus on helping students of color access college and career opportunities through Cherry Creek Schools."

The district also worked collaboratively with the Governor's Office to propose legislation last year to make this pathway available across Colorado. 

"The Foundation is proud to support this initiative that will encourage CCSD students to come back after receiving their teaching certification and teach in Cherry Creek Schools," Cherry Creek Schools Foundation Executive Director Jill Henden.