EIG Winner Diana Huston on engaging all students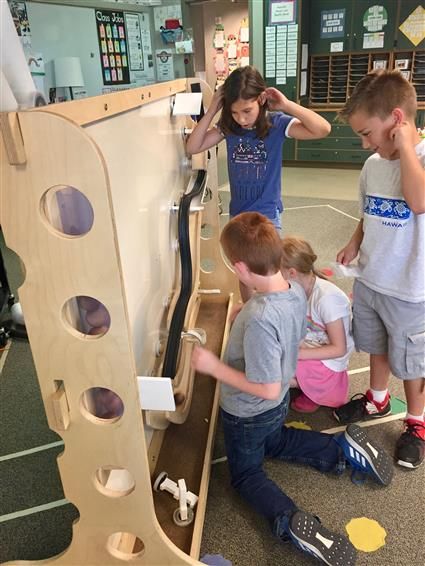 Diana Huston Educator Initiative Grant
"Future Forward Teachers" is a series highlighting how innovation is flourishing across the Cherry Creek School District. We sat down with Diana Huston, a second-grade teacher at Aspen Crossing Elementary, who won an Educator Initiative Grant (EIG) last year. EIGs are granted by the Cherry Creek Schools Cherry Creek Schools Foundation, which awarded $135,000 in grants to 150 teachers during the 2018-19 school year. The Foundation is dedicated to investing in innovation in the classroom that provides opportunities for every student to achieve to the best of his or her ability.
Q: What was the topic of the Educator Initiative Grant that you won last year?
A: I wrote a grant for a program called Project A.C.E. The A.C.E. stands for All Children Engaged. Project A.C.E. allowed all students in grades first through fifth to participate in a class they found interesting once a week for four weeks, twice during the school year. Students got to choose which class they would attend, and we saw an incredible variety of subjects. Class offerings appealed to all types of learners with sports classes, brain challenging classes, arts and crafts, science and engineering classes, and the arts. The Elementary Project Team collaborated with us to teach a STEM class each session as well. 
Q: How did this project impact your students?
Our students love this program. They always want more time and for it to go more weeks. We encouraged students to choose topics that they were passionate about. This allowed them to make connections with other students and teachers that share similar passions. We wanted to create a space where kids could grow and collaborate and yes, even struggle, but in a place of learning and support. 
Following each session the children shared where they went, what they learned, and what they are looking forward to next time. This share time offered children an opportunity to share their excitement and enthusiasm as well as learn about other classes from each other. At the end of each four week session, I also send out a form to gather student and teacher feedback. This feedback provides a way to continually make improvements and offer classes the children are interested in. 
This year, we added a fifth-grade mentorship component and asked some of our fifth graders to help teach classes. The kids loved learning from each other! Often times, they'd go to their mentor first before asking the teacher for help. We also think about how to integrate the activities that are popular into the rest of the school year and how to incorporate the 4 C's - communication, collaboration, critical thinking and creativity.
Q: What advice would you give a teacher applying for an EIG?
It's such a great resource, especially if you want to engage students in project-based learning. It will allow you to take your practice as a teacher further and provide your students with engaging learning opportunities. It also means teachers don't have to buy so many materials with their own money. In the beginning, we had some teachers who were concerned about the time Project A.C.E. would take away from an already busy day, and anyone doing a schoolwide project should be aware of that, as well. However, our students became so enthusiastic and teachers realized what a positive impact Project A.C.E. had on engagement and learning that it is now something we all look forward to.
Q: What do you think will be necessary for the schools of the future?
We have to take to a more holistic approach and focus on the whole child. To engage our students, we need to focus on wellness and social-emotional growth in addition to academics. We need to be aware of how stress and trauma shapes our kids and be responsive to their needs. Students need voice and choice to explore their own interests. Every child has a different path to learning and multiple ways to get there. We want them to be able to communicate, think critically, collaborate and be creative. School isn't about desks in rows anymore; it's about a learning process through experiential activities that are relevant and engaging.
Q: How will you be innovating this school year?
I applied for another EIG grant so we can grow our resources and continue to offer engaging Project A.C.E. classes. I will also begin cataloguing and storing our materials. This way teachers know what resources are available year-round. My hope is that the materials we acquire through our EIG grant will be utilized throughout the year. We are so grateful for our Innovation Space and hope teachers figure out how to use these materials in additional ways.