EIG winner Karen Hampel on how sensory tools can improve classrooms
By Heather Tinley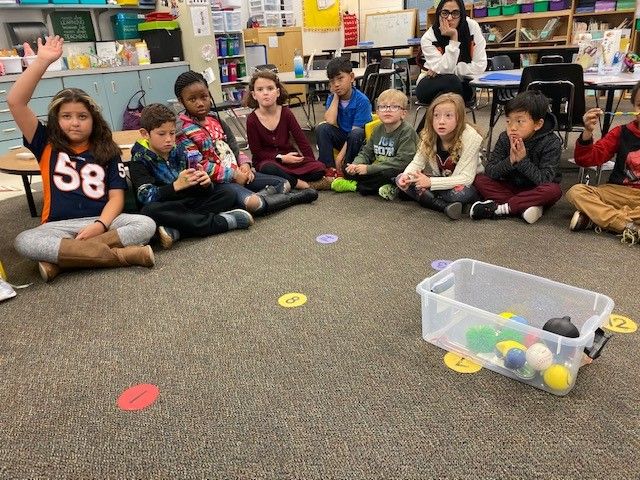 EIG winner Karen Hampel classroom
"Future Forward Teachers" is a series highlighting how innovation is flourishing across the Cherry Creek School District. We sat down with Karen Hampel, school social worker and behavior support coach at the Hollies, who won an Educator Initiative Grant (EIG) last year. EIGs are granted by the Cherry Creek Schools Foundation, which awarded $135,000 in grants to 150 teachers during the 2018-19 school year. The Foundation is dedicated to investing in innovation in the classroom that provides opportunities for every student to achieve to the best of his or her ability.
Q: What was the topic of the Educator Initiative Grant (EIG) that you won last year?
A: When I was in third grade, I found it helpful to play with this giant box of 84 crayons. I'd make up stories and having that object was beneficial. There are lots of different tools to help students self-regulate; some students have trouble sitting still or focus better with a fidget toy. One of the challenges we faced with those tools, though, was that every student wanted to use it and it became a distraction. After going to a training on trauma-informed practices, I wanted a way to help all students understand the purpose of sensory and self-regulating tools. I purchased different tools and containers, then created a pilot program to introduce students to the tools. I'm very grateful for the teachers who let me come into their classroom and develop this idea. Students had the chance to try each tool and learn about the general rules when using the tools.
Q: How did this project impact your students?
A: The students learned how to be non-judgmental about things. We use the example of our sense of smell a lot -- not everyone likes the same smells -- and talked about empathy versus "ewww." We also talked about the vestibular system and proprioceptive senses and how some students enjoy tapping their pencil or holding a squishy ball. This isn't weird or bad, just different. We talked about using different tools for different situations, which encouraged them to think about self-awareness and their needs. 
Q: What did you learn from this project?
A: It wasn't as structured as I would have liked, but I let teachers know ahead of time that it wasn't going to be the perfect curriculum. Starting to teach it this year has been so productive and effective from learning from last year and incorporating teacher feedback. We found it was very successful when students make the rules. Students are very good at figuring out what can go wrong! They talked about respecting the tools. They also found other uses for the tools that I might not have thought of. 
Q: What advice would you give a teacher applying for an EIG?
A: Go for it! This was really something I wanted to experiment with, but learning tools can be really expensive. The grant made it possible.  This also gave me a chance to reach out to teachers and create connections. Do your homework, because you'll need to share data. As someone who can grow in that area, I had to put a lot of thought into what data we could share. It wasn't always easy to gather data, but I had good anecdotal evidence for the project's success.
Q: How will you be innovating this school year?
A: I'm continuing to bring this to classrooms. Since several students have experienced this before, we would let those students lead the conversation to allow some agency and empowerment. This proved my original theory: the students were less excitable or distracted by the tools because they were familiar with them. We also added a timer so students would be more accountable with sharing. I'm looking forward to getting this into more classrooms. I also want to build teachers' capacity and teach them how to talk with their kids about these tools so they can lead these conversations, as well.
Q: What do you think we'll need in order to have successful schools in the future?
A: Social-emotional learning will have to be at the forefront for our teachers and students. We'll need teachers who understand social-emotional skills and how to integrate them into the classroom lessons. We also need to build a strong sense of community in the classroom so students feel responsible and can trust in one another. I also believe very strongly in the equity work that we're doing. Our classrooms are home to a wide variety of perspectives and experiences. When teachers use that to inform their teaching and the way we solve problems, we'll be able to create a strong learning environment for our kids.