E.I.G's in Action: Tower Garden at Greenwood Elementary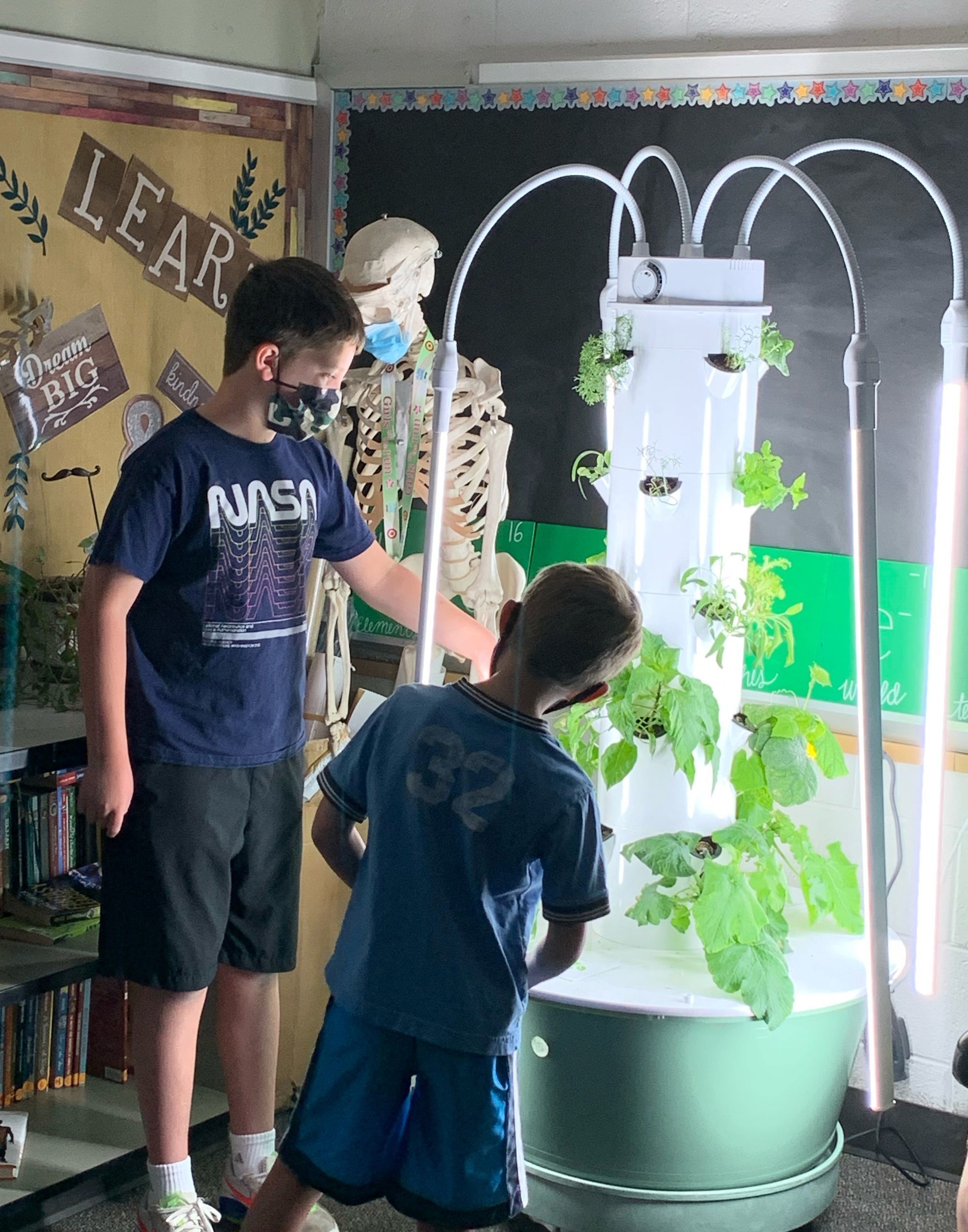 Something's growing at Greenwood Elementary, and it's mesmerizing students in Lisa Allen's science classes.
Students are getting a cornucopia of hands-on science lessons all organized around a single project, the Tower Garden. This aeroponic garden is growing more than plants – future scientists are growing along with it! Building and maintaining the garden, students are thinking like scientists: questioning, observing, testing, re-designing, and problem-solving.
"The kids LOVE the tower garden," said Ms. Allen, "they are so excited to work on it and it inspires so many fantastic questions from them".
Tower Gardens were designed to grow food all year long. With the use of indoor LED grow lights, students grow vegetables, fruits, herbs, and flowers – witnessing the entire process from seed to harvest. The tower doesn't use any soil, plants are fed instead by constantly flowing water. Students are in charge of testing the PH and adding water and minerals when needed. Since the garden is inside,
students also get to hand-pollinate flowers and see their plants transform. Students are also tasked with becoming specialists on different aspects of the Tower Garden, educating and presenting to their peers on their area of expertise.
All these activities fit right in with the Living Systems unit in the fifth-grade science standards. Students experience science as they learn it. The garden connects those lessons to real-life examples that students see in the classroom every day. Aside from botany lessons, this project-based learning approach helps students develop life-long skills to help them be successful now, and in the future.
Ms. Allen hopes this project continues to grow and can impact even more students.
"None of this would have been possible without the grant from the Foundation," said Ms. Allen, "we're so grateful for their support helping launch this idea. We're excited to see where it can go".
Learn more about our EIG program and see more of our grants action here. The EIG program is made possible thanks to support from our community. Thank you to all of our school champions for your support! Donate today to support the EIG program.