Fifth-grade students at Trails West build library reading nook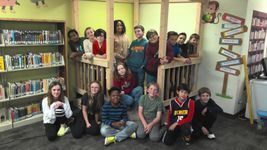 Fifth-grade students at Trails West Elementary marked their last year at the school with a special construction project, building a reading nook for the school's library using materials funded from an Educator Initiative Grant (EIG). 
"We started this project in April," explained fifth-grader Dexter Griffin. "We voted on what we wanted to do, then we split into five different groups: architecture, engineering, accounting, marketing, and resource management. The marketing group created a presentation for our principal and once she approved it, we started to build."
The project was supervised by Gifted and Talented teacher Charles Kastens, who helped teach students how to use power tools safely, work together, and use math and communication skills to launch the project. Kastens collaborated with fifth-grade teacher Christina Nevinski to align the project with what the kids had learned throughout the year, giving students an opportunity to apply academic skills in a real-life scenario. They also reinforced social skills like collaboration, public speaking, and conflict resolution. Kastens reached out to parents to ensure they were comfortable with students using power tools.
The idea came from fifth-grader Kaylin Wood, who shared that she enjoyed working with students that weren't in her immediate friend group.
"You get to work with people who normally wouldn't be your first pick at recess and people that you normally wouldn't be math partners with," Wood said. "But you get to talk and meet new people, which is really fun."
Wood shared that students practiced their math skills by budgeting, using measuring tools, and learning geometry to design the nook. Students also had to measure what books and bookshelves would need to move to fit the nook in the designated space.
Safety was prominently on display, with students getting safety gloves, goggles and earwear and focusing when using the tools.
"Safety gloves are important because if I didn't have them on, I might have lots of splinters," said fifth-grader Heilala Powell. "Safety glasses are important to keep my eyes safe, and safety headphones are important to wear while you're drilling to protect from loud noises."
Kastens, who has supervised multiple, student-focused building projects in his time with Cherry Creek Schools, shared that this project is about learning, but also creating positive memories for students along with a feeling of accomplishment.
"Twenty years from now, students will remember the experiences they had in school," Kastens said. "They will remember the feeling of accomplishment and teamwork that comes from making something together."