Launch program takes off, prepares students for middle school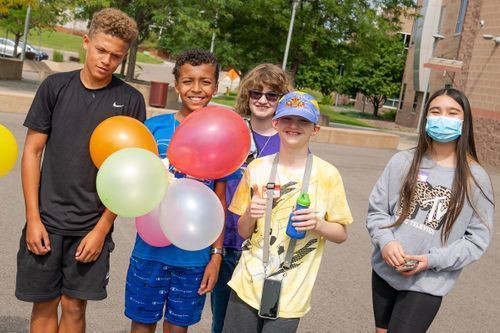 The first day of middle school is an exciting and nerve-racking time. New teachers, new classrooms, new classmates, all in a new school. It's a lot to take in.
This summer, Cherry Creek School District sixth and seventh graders had a chance to get a sneak-peek before the first day of school as part of the Launch Camp program. With support from the Foundation, this free three-day camp provided incoming middle school students across the district an opportunity to form relationships with their teachers and classmates, explore their new schools and engage in fun, interactive and collaborative projects.
"It's really nice if you're a middle schooler to not have to go in on day one and have absolutely no idea what's going on", said Trevor Glatthar, seventh and eighth grade Language Arts teacher at Liberty Middle School. "Giving them that intro is super helpful for them."
Launch Camp aims to create connections between incoming middle school students and build excitement for the upcoming school year. "Students come in and are immediately able to get to know teachers they might not already know and get familiar with other students as well", said Sky Vista Dean Jason Birchfield. "It creates a smooth transition from elementary into middle school."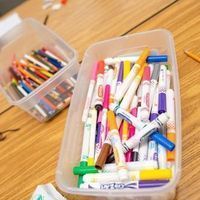 Project-based learning is at the center of Launch Camp, helping students engage with curriculum in new and fun ways, all while getting to explore their new schools. At Sky Vista Middle School one activity tasked groups of students with creating lock boxes, where they had to find ways to secure their boxes using access codes and riddles, weaving in different areas of the core curriculum.
Students at Liberty Middle School decorated classroom doors and went on scavenger hunts across the school, getting the lay of the land while they created and completed challenges. "The scavenger hunt has been a lot of fun, traveling to different places [in the school] and creating tougher clues", said sixth-grader, Azalea Szelinsai.
This year, the Launch program was expanded to include seventh graders, many of whom did not attend school in-person last year. For many middle school students, this year they are not only transitioning back to in-person classes, but adjusting to new buildings and a brand new way of doing school. Programs like Launch Camp work to make that transition a little bit easier and get students started off on the right foot.
"[Launch Camp] has been really fun", said  Liberty Middle School seventh-grader Elliott Kitashima. "We've gotten to see more of the school, see people we know, meet new people, and do fun interactive activities. It's been great to see more people in person again. This summer I haven't really seen a lot of my friends, so getting more of that social interaction has been one of the best parts."
Support from the Foundation and our donors helped make programs like Launch and a variety of other summer programs possible this year. "It's all about support", said Birchfield. "Having any and all support that we can have for kids in the district to make them better learners, that's positive. Kids are supported, families are supported, and it helps our community."