One Book One Campus Events Connect Students, Authors
Fleur Bradley had to rediscover a deep-seated love of reading before she could refine her skills as a storyteller.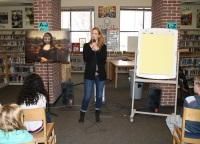 Bradley is now a professional writer, the published author of the "Double Vision" trilogy of spy thrillers geared toward young readers. Her success as a writer came after she'd fully explored the genre, blazing through a long list of mysteries, thrillers and action/adventure books aimed at all ages. But that exhaustive work only came after Bradley, a native of the Netherlands who now lives in Colorado Springs with her family, had reconnected with her strong love of literacy.
"I became a reluctant reader as a teen," Bradley said, pointing to the discouragement that sprang from the unengaging and uninspired works she was forced to read as a high school student. "I started to associate reading with not having fun. I came from that standpoint."
Bradley eventually managed to recover the passion for reading she'd first forged as a child, an enthusiasm she encouraged Campus Middle School students to develop and cherish. Bradley visited the school on Feb. 24 as a capstone to the month-long "One Book One Campus" event at the school, a push that saw hundreds of students receiving free copies of "Double Vision," the first installment in Bradley's trilogy.
During her visit, the author spoke to hundreds of students in the school's library, outlining her experiences as an author and, more fundamentally, her journey as a reader.
"I want to keep kids reading for fun through middle school, high school and beyond," Bradley said after one of several presentations to students. "I want to appeal to the reluctant reader through humor and good storytelling … to appeal to as many readers as possible."
Bradley's creative goals align with the underlying philosophy of the "One Book One Campus" event at CMS and other schools across the district. The initiative, which started with support from the Cherry Creek Schools Foundation, seeks to foster an interest in books outside the classroom for all students. Instead of connecting the act of reading to assessment, curriculum and grades, "One Book One Campus" is designed to engage an entire school campus in a single book for fun.
"We want to keep it voluntary, to get a book in kids' hands that they enjoy," said Derek Phelan, teacher-librarian at Campus Middle School. "We want to build community, and it takes a community to pull this off."
That's because the event involves a lot more than simply giving students access to a book. Bradley's book takes place in Paris, and the CMS community worked hard to give the campus a French feel throughout the month. Students constructed recreations of the Eiffel Tower, the Arc de Triomphe and other famous Parisian landmarks out of cardboard, paint and other materials. They transformed the school's entry hallway into a Parisian café, and held a mock Tour de France with tricycles in the cafeteria.
Campus wasn't the only school to exert an impressive effort to get students engaged in literacy. The West Middle School community chose the "Book Scavenger" by Jennifer Chambliss as its 2017 "One Book One West" title, and they took part in a wide range of activities related to the book's themes of mystery and detective work.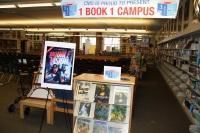 "We had a local sportscaster endorse the book as well as a few Bronco players. That was videotaped and played to the kids at the time of book distribution," said Brenda Byrne, a West Middle School parent and chair of the One Book One West committee. "The art classes also participated in projects related to the book."
Like Campus, West capped off its program with a visit from the author. That firsthand engagement from a professional writer is a critical part of the event. Students from different grades and different reading levels can unite in a common feeling of excitement and engagement when they hear firsthand feedback from the author of a book they love. Kids can relate to a published author who has no qualms about admitting that they were once a reluctant reader; they're able to find a connection to a professional author when they ask questions and get honest answers about the craft.
"It's really special for me and for the kids. I wish all schools did events like this," Bradley said. "You have to step outside of an adult mindset and try to understand what makes kids tick."
Bradley wanted to tap into students' perspectives when she offered a recurring message during her presentation, one that boiled down to a catchy motto.
"Any time I'm scared and I have to do something I haven't done before, I have a saying," she said. "I can totally do that."