Technology company donates supplies to Mission Viejo and the Foundation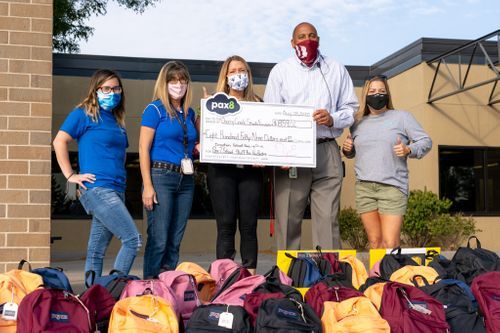 Receiving a backpack of free school supplies can make a big difference for an elementary school student.
Mission Viejo Elementary Principal André Pearson noted that the seemingly simple gift of a backpack loaded with pencils, markers, notebooks, highlighters and other essential school supplies can benefit a student on several levels. Beyond the immediate and obvious impact of the donation in the classroom, the gesture itself can push a student to achieve.
"Kids' eyes light up; it's like Christmas time when they get a full backpack full of school supplies," Pearson said on Aug. 28, as representatives from the Greenwood Village-based technology company Pax8 dropped off 50 backpacks loaded with supplies for Mission Viejo students. "Honestly, something that simple motivates kids to want to learn and want to do well in school. They see that someone is giving them an opportunity and they don't want to waste it."
Offering students that kind of inspiration was a central mission behind the recent "Pax 2 School" campaign, which saw Pax8 employees raising the funds to purchase the 50 backpacks and the supplies, as well as almost $1,000 in additional funds that they donated directly to the Cherry Creek Schools Foundation.
Kaye Postregna, executive administrator at Pax8, said the campaign came about specifically as a way to offer support to the community during a difficult time. The continuing economic and health fallout of the global COVID pandemic has impacted families across the Cherry Creek School District, along with the state, the nation and the globe. The campaign was a way for the company to make a difference in its own community.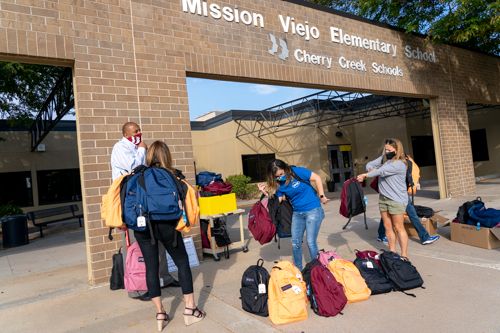 "Due to the challenging time many families are facing right now, it became clear that Pax8 needed to step in and help," Postregna said. "We set up donation platforms to make it easy for our employees to donate and purchase supplies. As the campaign was coming to a close, the PaxPacks were stuffed with the donated school supplies by our employees and given to the wonderful individuals at Mission Viejo Elementary."
Every donated backpack included a wide array of supplies, including folders, spiral notebooks, pencils, pens, highlighters, markers, crayons, glue sticks, index cards and post-it notes, as well as hats, stickers and other fun gifts.
"At Pax8, we recognize that giving back to the community is among one of the most important and valuable things we can do," Postregna said.
The campaign will have a real impact for the students at Mission Viejo, Pearson said. A bag of school supplies may seem like a simple gift to many, but Pearson insisted that it can make a measurable difference for students kicking off the school year in challenging and uncertain times.
"We were always in need of school supplies, but especially this year, with the economic crisis, we've got a lot of families who are either unemployed or underemployed. This always helps a ton," Pearson said. "I just think that whenever we have people from a community helping out, it just reminds kids to pay it forward and give it back.
"It's an example that kids will see of adults helping out. It's great from an emotional and a financial standpoint," he added.

By Adam Goldstein