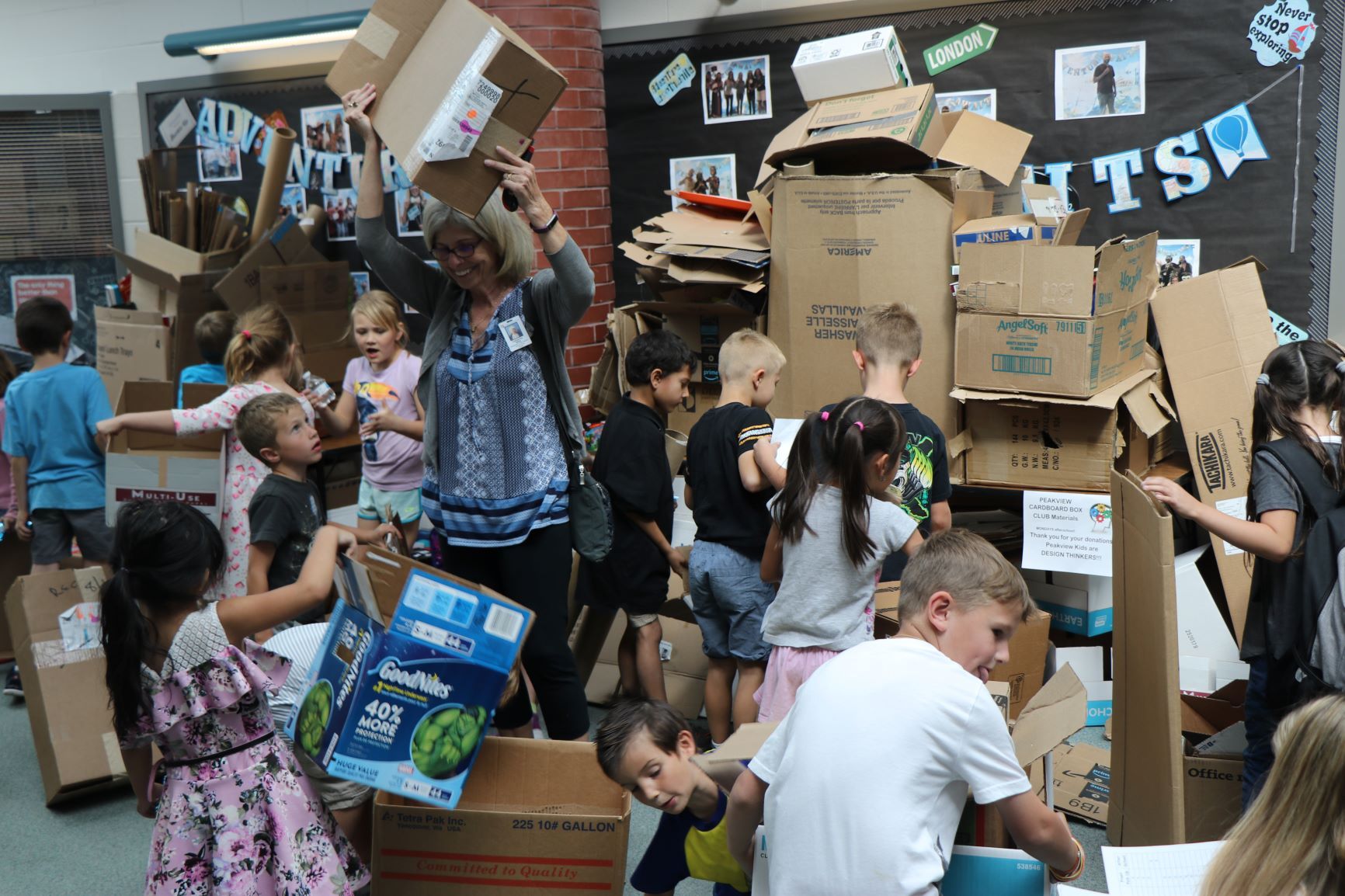 Students prep for 2018 Cardboard Challenge
Cherry Creek School District Superintendent Scott Siegfried was hard at work building a castle.
Siegfried was taking instruction from the two engineers who had first envisioned the project, students at High Plains Elementary who were intent on preparing for the Cherry Creek Schools Foundation's Sixth Annual Cardboard Challenge, slated for Oct. 10 at Smoky Hill High School. They were among the dozens of High Plains students who were hard at work in the school's gym on Oct. 2, using cardboard, glue, tape and a host of other recycled materials to prepare creations for the annual display of creativity, ingenuity and enthusiasm.
Siegfried worked among the students, hunting for the perfect piece of cardboard and tearing off pieces of tape to help bring the two students' creative vision to life. By the end of the session, the students had almost finished their cardboard castle, a structure that featured hand-drawn gates, windows and crenellated walls, as well as carefully plotted walls and towers.
For Siegfried, helping out with multiple projects offered a glimpse into the kind of passion and creativity that has made the Cardboard Challenge one of the Foundation's most successful yearly events.
"I was helping these students make a castle; I helped others make a tanks and a rocket ship. There were all kinds of exciting ideas being realized by these students," Siegfried said. "It's amazing to walk into a space like this and hear the creativity, hear the excitement."
Siegfried added that the cornerstones of the Cardboard Challenge, a competition inspired by the 2012 documentary film "Caine's Arcade" directed by Nirvan Mullick, align with the district's recent work around innovation and 21st-century learning. Just as the district has worked to connect students at all levels with tools to encourage creativity, problem-solving and collaboration, so has the Cardboard Challenge encouraged a hands-on approach to learning, building and discovering.
Indeed, the Challenge has always stressed key steps: Design, build, redesign, rebuild, collaborate, problem-solve. These are key words from any competent engineer's dictionary, and they figure into a district-wide stress on skills that will be critical in the academic and professional landscape of the coming decades.
"Kids are naturally excited. They're naturally creative and they're naturally innovative. Our job is to build on that," Siegfried said. "The new Innovation Spaces in our elementary and middle schools, the new Cherry Creek Innovation Campus, they're taking these great ideas that our students have to the next level … It's so exciting to see how this event, with the Foundation's support, also helps to give our kids the tools and the strategies to bring their natural talents to that next level."
According to High Plains Art Teacher Brooks Hart, the Cardboard Challenge projects have offered a bridge to a wide range of disciplines for students of all ages and grade levels at the school. First- to fifth-graders have taken the project as a cue to explore their artistic sides, even as they've implemented engineering and math principles to help bring their initial visions to life.
"They've required very little guidance. They've embraced it fully, and they're just going for it," Hart said, adding that students have undertaken building projects ranging from gumball machines to race cars. "This project requires creativity and problem-solving … That set of skills is something that all kids and all grown-ups could use more of."
The students from High Plains will joins students from elementary, middle and high schools across the district to show off their projects from 4:30 to 7 p.m. on Wednesday, Oct. 10 at Smoky Hill High School.