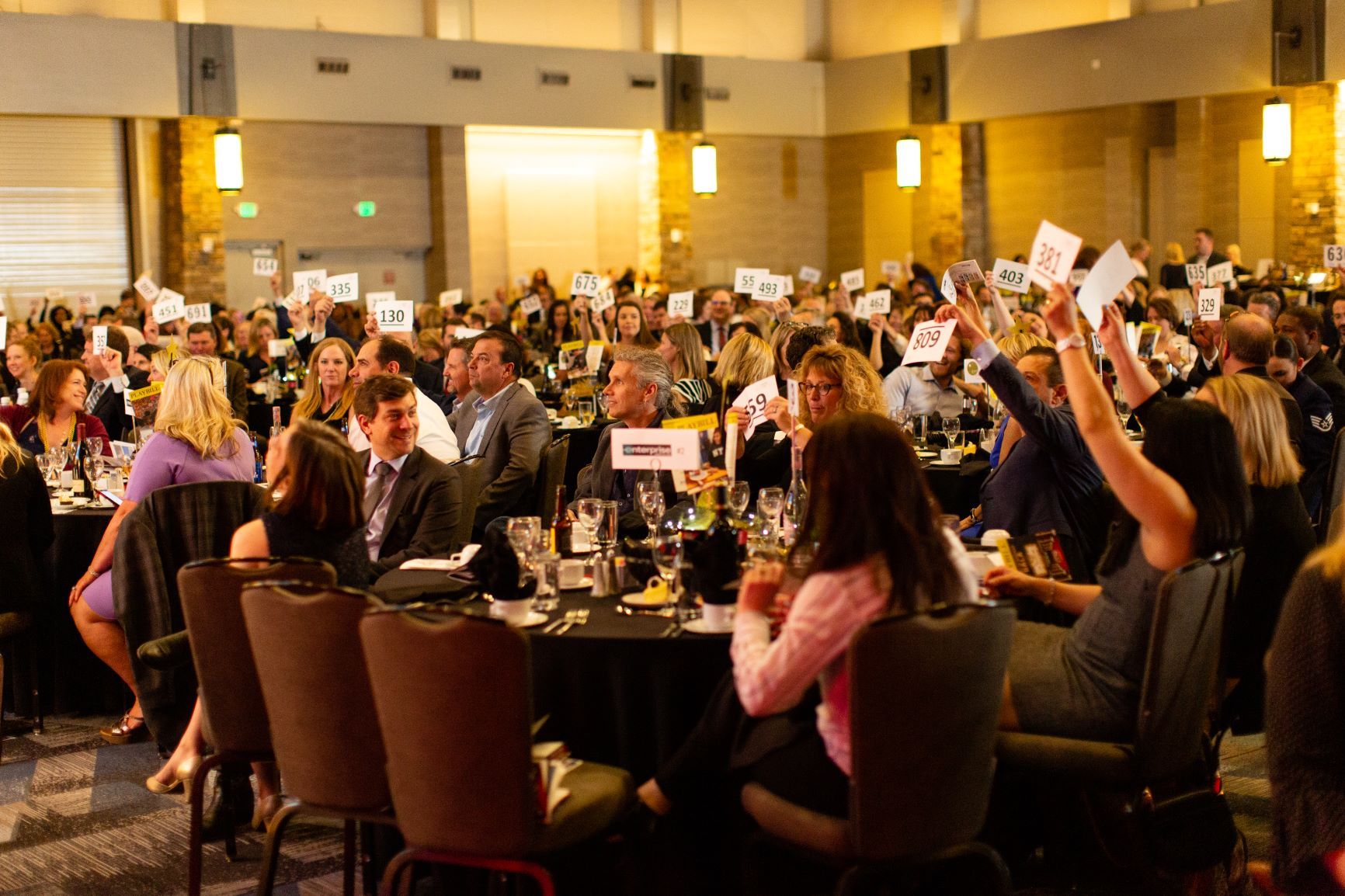 Enterprise Rent-A-Car Stands Out as an Elite Corporate Citizen at Cherry Creek Schools
For 26 years, Cherry Creek Schools Foundation has channeled its resources and leveraged corporate partnerships to impact student learning outcomes, empower educators to embrace innovation and project-based learning in the classroom, and open the doors of opportunity for all students to succeed at Cherry Creek Schools.
While every one of our partnerships has measurable impacts on our programmatic reach, one of those standout corporate partners who has played an essential role in supporting student achievement at Cherry Creek Schools is Enterprise Rent-A-Car, the flagship brand of Enterprise Holdings.
"As parents of two boys, my wife and I have become huge fans of both the district and the Foundation because of their dedication to excellence combined with their commitment to continuously innovating in the classroom," said Steve Topalian, Vice President and General Manager for Enterprise Holdings in Denver, who also serves as the chairman of the Foundation. "I am also proud that Enterprise Rent-A-Car chose to partner with the Foundation as the Presenting Sponsor for the 5th Annual Invest in Success Gala. Just as Wendy and I believe in the district, Enterprise recognizes the importance of investing in the communities where we operate, including developing the future workforce and helping students develop the skills they need to succeed."
Our corporate partnerships are vital to the health of our educational programming and grants funding. Through their generous support, they have helped launched programs like robotics in every elementary school at Cherry Creek Schools, virtual and augmented reality coding, and SeeSaw-enabled iPads that support the home-to-school connection at schools that serve our families.
Enterprise Rent-A-Car has been a corporate partner of Cherry Creek Schools Foundation for four years. During that time, Enterprise has supported the Foundation's annual Cardboard Challenge event, which is open to all 55,000 Cherry Creek Schools students, assisted in resume building and mock interview sessions to prepare high school students for professional success, and has had an executive serve on the Foundation board to help guide our mission of serving all students.
Not only has Enterprise Rent-A-Car served the community with its time, but it has been a major contributor to the Foundation. Enterprise has consistently been a corporate sponsor of the Annual Invest in Success Gala, the Foundation's largest fundraising event of the year, and for the first time, Enterprise became a Presenting Sponsor of this year's Gala on March 28, the highest tier for a corporate sponsorship. Its contribution puts it in an elite class of corporate partners who are deeply invested in the success of our students' learning outcomes and our communities in the southeast Denver Metro area.
"We could not be the Foundation we are today without committed corporate partners like Enterprise Rent-A-Car who realize the importance of investing today in the leaders, innovators and entrepreneurs who will shape the future of our workforce," said Jill Henden, Executive Director of the Cherry Creek Schools Foundation. "Corporate sponsorships are foundational to the health of our learning communities, and Enterprise has clearly stood out among our local corporate citizens for its significant and sustained support. We are so grateful for their generosity and genuine desire to bring 21st century learning to our schools."
Enterprise Rent-A-Car is founded on a core value of strengthening communities one neighborhood at a time. In addition, Enterprise believes that corporations play a critical role in creating vibrant communities by investing in educational opportunities and engaging with schools as a socially-responsible corporate citizen.
"We realize that healthy and prosperous communities, along with the support and goodwill of the people who live in those communities, are the lifeline of our business. That's why we are committed to promoting long-term community growth and prosperity through economic impact and employment, local foundation grants, global philanthropic initiatives, corporate sustainability, and, of course, providing sustainable transportation options. Our support of the Cherry Creek Schools Foundation represents an investment in tomorrow's leaders and the Greater Denver community as a whole," Topalian said.
Cherry Creek Schools Foundation actively engages with local businesses that operate within Cherry Creek Schools 108-square-mile boundary covering a large swathe of Arapahoe County in the southeast Denver Metro area. Prospective corporate sponsors can contact Cherry Creek Schools Foundation Executive Director Jill Henden at jhenden@cherrycreekschools.org or via phone at 720-554-4429.
About Cherry Creek Schools Foundation
The Cherry Creek Schools Foundation, founded 26 years ago as a 501c(3) nonprofit, connects our community to the Cherry Creek School District by identifying resources and partnerships that result in IMPACT through INNOVATIVE programs and meaningful educational OPPORTUNITIES for all students and educators.  Since its inception, CCSF has awarded over 1,000 Educator Initiative Grants that fund the work of classroom teachers who ensure that all of our students are prepared for an ever-changing world. The Foundation has raised nearly $10 million for groundbreaking educational programs that have touched all of our schools and students. From elementary school robotics programs, to middle school engineering programs, to high school apprenticeship programs, the Foundation financially backs ideas that get results across all curriculums and grade levels. More information about the Foundation can be found online at www.ccsdfoundation.org.
About Enterprise Rent-A-Car
The Enterprise Rent-A-Car brand is owned by Enterprise Holdings, the largest car rental provider in the world. Enterprise Holdings currently is ranked as one of America's Largest Private Companies. Furthermore, if it were publicly traded, Enterprise Holdings would rank on Fortune's list of the 500 largest American public companies. In addition, Enterprise Holdings not only accounts for the largest airport market share in the U.S., but its domestic rental fleet also is one of the newest in the industry. Other transportation services marketed under the Enterprise brand name include Enterprise CarShare, Commute with Enterprise, Enterprise Car Sales, Enterprise Truck Rental, Exotic Car Collection by Enterprise, Zimride by Enterprise, Enterprise Car Club, Enterprise Flex-E-Rent and Enterprise Fleet Management. For more information about Enterprise Rent-A-Car, visit www.enterprise.com.