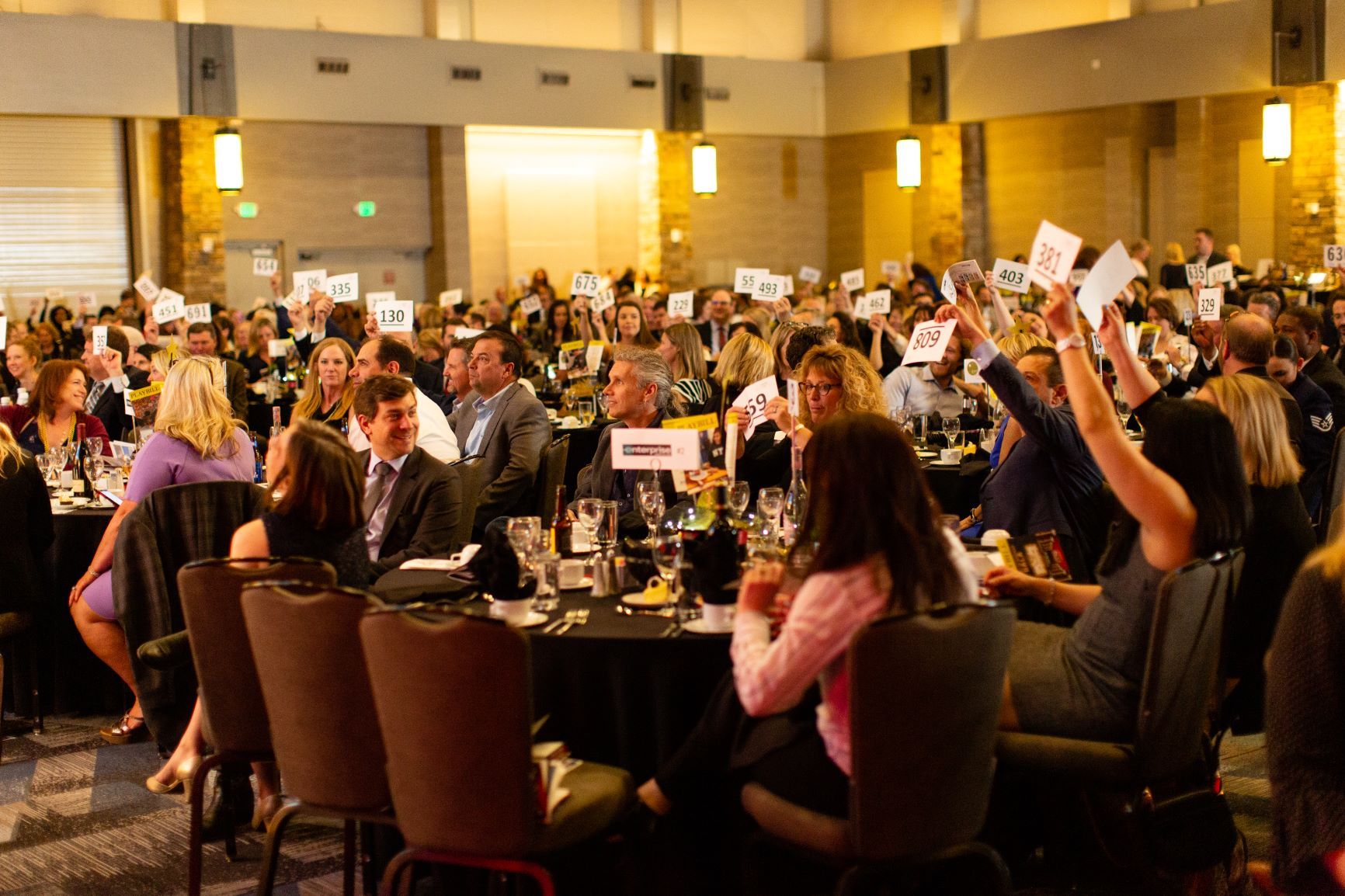 Fifth Annual Cherry Creek Schools Foundation Gala Celebrates Innovation, Equity and Broadway-sized Dreams
Developing real-world skills requires real-world experience.
That's a lesson that Tatiana Dixon, a 17-year-old senior at Eaglecrest High School, learned in the process of applying for the 2019 Dr. Monte C. Moses Future Educator Scholarship offered through the Cherry Creek Schools Foundation. As much as Dixon has prepared for her academic and professional future at Eaglecrest, applying for the $5,000 scholarship offered critical experience that wasn't necessarily available in a classroom.
For example, a final step in the application process saw Dixon facing an entire committee of interviewers, Foundation officials who asked about her future goals and her deeper sense of purpose.
"I didn't know it was going to be a committee when I went in for the interview," Dixon said immediately before the CCSF's Fifth Annual "Invest in Success" Gala held on March 28 at the Denver Marriott Tech Center. "I'd never interviewed with eight people before. That was a big challenge, making sure that I scanned the room, smiled at everyone and talked to everyone."
Dixon tackled the challenge with thoughtfulness and composure; her performance at the interview helped win her the scholarship for her upcoming freshman year at the University of Northern Colorado. Dixon is committed to pursuing a career as a teacher, and she dreams of coming back to teach in the school district that's given her so much.
"It's a big deal to know that there are people who support me and believe in what I want to do," Dixon said. "I'll be able to achieve my dreams, to help others in need."
Offering students those kinds of opportunities is the underlying mission of the Foundation, and the organization's wide-ranging work in the district was on full display at the Gala, which drew more than 600 attendees and helped to raise more than $300,000 for CCSD students, teachers and community members. Dixon, along with fellow scholarship winner Audrey Espinoza and AVID scholarship recipients Danya Al-Quraishi, Hanan Mohammed and Mayra Guzman, were on hand to accept their honors, and they joined a diverse crowd of community leaders and luminaries in celebrating the Foundation's mission.
The Broadway-themed event led by host Reggie Rivers featured performances of tunes from Broadway shows like "The Sound of Music" and "Hairspray" by high school students from Grandview, Smoky Hill and Eaglecrest high schools. Corporate sponsors like Enterprise Rent-A-Car, MDC Richmond American Foundation, Rocky Mountain Hospital for Children, JHL Constructors, DLR Group and dozens of others invested in the event itself and the larger, full-time operations of the Foundation rooted in equity and innovation.
As in past years, the Gala offered a chance to spotlight and support the Cherry Creek School District's commitment to excellence, equity and engagement. CCSD Superintendent Dr. Scott Siegfried spoke of the district's commitment to connecting every student with opportunities to pursue their own personal dreams, to reach their individual Broadways and dream big.
"What I want for every CCSD student is to reach their greatest potential in whatever field most excites and nourishes them," Siegfried said. "That could be the literal Broadway stage for the talented future performers who we have already met tonight. But it could also be the Broadway of advanced manufacturing for our engineering students, or the Broadway of health care for our future medical professionals. It could be the Broadway of skilled trades, cyber security, hospitality, medicine, law, business and education.
"No matter any individual student's goals, they should have the opportunity to reach for the very top," he added.
Denver Broncos wide receiver Emmanuel Sanders was also on hand at the Gala to stress the importance of supporting education. Sanders toured "Innovation Alley," an interactive display of student projects supported by the Foundation's Educator Initiative Grants, and received a firsthand sense of CCSD students' innovative and engaging work. He took a turn steering an Antelope Ridge student's remote-control robot and reviewed interactive dioramas designed by Mission Viejo Elementary School students.
"Driving the robot was pretty cool. There are some extremely smart kids here tonight," Sanders said. "Education is everything. To survive in this world, you have to be smart. To me, education is the number-one thing you should provide for kids. For me, when I was a student athlete, the 'student' always came before the 'athlete.'"
Tatiana Dixon certainly shares that sense of urgency when it comes to education. The Eaglecrest senior is well on her way to returning to her home district as an educator, and no one was more proud of her hard work than her father, Ellery Dixon, who was quick to speak of his daughter's inherent "gift" for connecting with others.
That skill was encouraged, embraced and developed by teachers at every level of Tatiana's journey through the Cherry Creek School District.
"She had great teachers in the district. Her elementary school teachers still know her, her middle school teachers know her when they run into her at the grocery store. It's not lip service – these teachers really care," Ellery Dixon said. "I've always pushed her to do well. It's led her here, and now she has the opportunity to do something special."